Facilitation

"The single biggest problem in communication is the illusion that it has taken place."
~ George Bernard Shaw
Business families know first hand what challenges they're facing, but these concerns can be extremely difficult and awkward to talk about. Facilitation is a confidential process providing a safe and open opportunity for more effective conversations.
Those involved are the experts who collectively create the best solutions with the help of a facilitator. As a neutral facilitator, my job focuses on asking questions to clarify what is important, understand why it matters, and identify what you want to do about it.
Ultimately, facilitated meetings lead to better decision-making, relationship building, and more commitment to the outcomes. Once you know where you want to go and why, your advisors are better equipped to provide expertise on the most beneficial, efficient, and technically sound solutions to get there.
Facilitation:
Provides a platform for open discussion
Gives everyone at the table a voice
Helps clarify important issues
Focuses the conversation around those issues
Supports you in working together toward your desired outcomes
In short, facilitation allows the real conversations to happen. As a result, you can thrive as a strong family and as a sustainable business.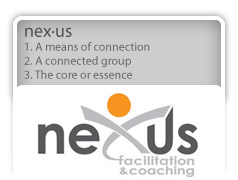 "Working with Niki is a pleasure. Her authenticity, welcoming demeanor and obvious commitment to those she works with provided me with all the confidence in the world that we could get the job done. Niki uses a fabulous balance of intuition and insight to help foster clarity, build understanding and develop connections with people that ultimately allows them get to draw out their very best. I very much appreciate Niki's ability to keep her 'eye on the ball' even in situations where the path ahead is unclear and through it all, maintain the trust and respect of those around her. I would highly recommend Niki to anyone who is seeking executive coaching or facilitation services, you can be assured that she will supply a degree of quality, creativity and commitment that is unsurpassed!
- Connie Viszlai, Executive Coach, Clear Point Coaching & Facilitation