Family Business Meeting Facilitation

FAMILY + BUSINESS – COMMUNICATION → FACILITATION
Many business families use the dinner table to discuss the family business. Facilitated family business meetings move important discussions "to the board room". This is your chance to table the tough stuff that crosses the family / business boundary, have a productive discussion about what matters, and figure out what needs to be done, when, and by whom.
Facilitated Family Business Meetings:
Add structure and clarity
Include key stakeholders impacted by business decisions
Allow for effective decision-making and productive outcomes
Participants: Active executives and managers in the business, including both family and non-family.
Process: Pre-meetings with each participant + 3-hour facilitated meeting. Follow-up calls 2-6 weeks post-meeting.
Niki Kux-Kardos is a CAFE* Trained Family Business Meeting Facilitator.
* Canadian Association of Family Enterprise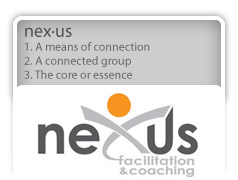 "Niki is a very talented professional and produces impressive results in all projects she tackles. I would highly recommend her services to all levels of business. You won't be disappointed."
- Irene Barr, Business Centre Solutions